Shipping Container Conversions and Container Modifications
Portable Space's container conversion service is carried out entirely in-house – from initial discussions, ideas, sketches or structural drawings, we can design and convert your container.
Shipping containers are manufactured to strict ISO standards with an extremely strong and robust structure capable of being loaded with 30 tonnes and stacked nine units high. Our containers are built in China and then shipped fully loaded, mainly to Felixstowe or to other UK ports. As a result, the so-called 'one trip' container is an exceptionally strong, cost- effective and readily available building block to convert and modify for a wide range of new projects.
We hold large stocks of containers in a range of different sizes, heights and door positions, including second-hand containers which have usually been used for global shipping for 8-12 years before being retired from active service. These used containers are extremely cost-effective and may be suitable for certain projects which gives them a useful second life and delivers environmental benefits too.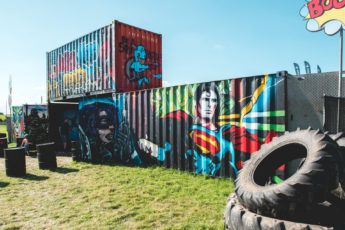 Bespoke Container Conversions
We are inspired by the ideas and enquiries that we regularly receive to use, reuse or upcycle shipping containers and our experienced team is well placed to turn your ideas into reality.
We also encourage you to quite literally think outside of the box as we like a container challenge. Here are some ideas to consider:
Swimming pools, Finnish saunas, infra-red hot rooms, hot tubs, museum exhibits, festival entrances, disaster relief, underground bunkers, bike jumps, nightclubs, outdoor workshops, gyms, fitness centres, rooms for hot yoga.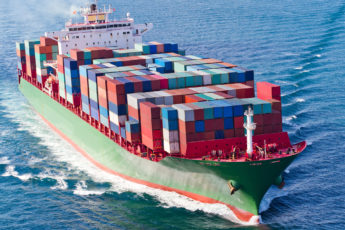 CONTAINER CONVERSIONS for use overseas
With some conversion projects, we are required to ship the finished container overseas in which case it will be essential that we maintain the plating certificate that enables the container to be delivered worldwide by international container transport.
If overseas shipping is needed, it is crucial that we are told at the start of the project so that we can incorporate additional structural integrity to cope with being stacked under six other fully loaded containers.
It is also useful to note that any conversion with significant apertures for doors, windows or vents will not be suitable for transport by rail, as a result of the significant air pressures that occur as trains pass at speed.
Depending on the amount of design work required and the complexity of the project we usually charge for undertaking detailed drawings, but once you place the order with us this is fully credited on your final invoice.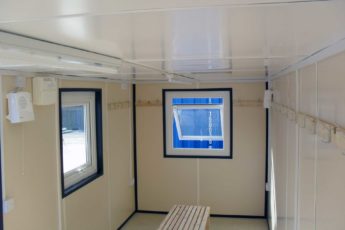 CONTAINER Accommodation
Containers are easily converted and modified to provide both temporary and permanent accommodation, including offices, canteens, meeting rooms, toilets, showers, sleeping and living areas.
These units can then be used domestically in the UK or shipped around the world via the global container network, by boat, sea and lorry.
Accommodation containers can be used in many different settings including within the education sector for classrooms or meeting spaces, commercial office developments, refugee camps and disaster relief, factory control rooms, weighbridge and goods-in offices, and remote accommodation needed for oil, gas and mining companies involved in exploration or production.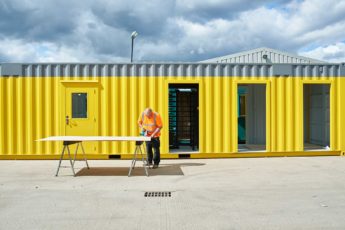 Construction Industry
The construction industry has used converted shipping containers for many years and continues to be a significant sector, predominantly helping site managers to meet legal requirements to provide suitable standards of welfare accommodation as outlined in the CDM regulations.
Containers are used to create a facility for making hot drinks and warming up food, space to change, store and dry clothes and provide toilets and showers. In addition well-designed site containers make excellent project offices and meeting spaces.
Converted from 20ft or 40fts containers this type of accommodation is easily moved from project to project both nationally and internationally if required.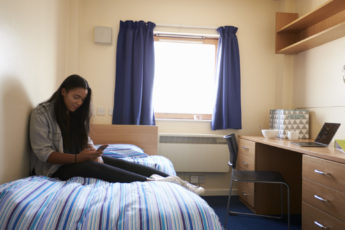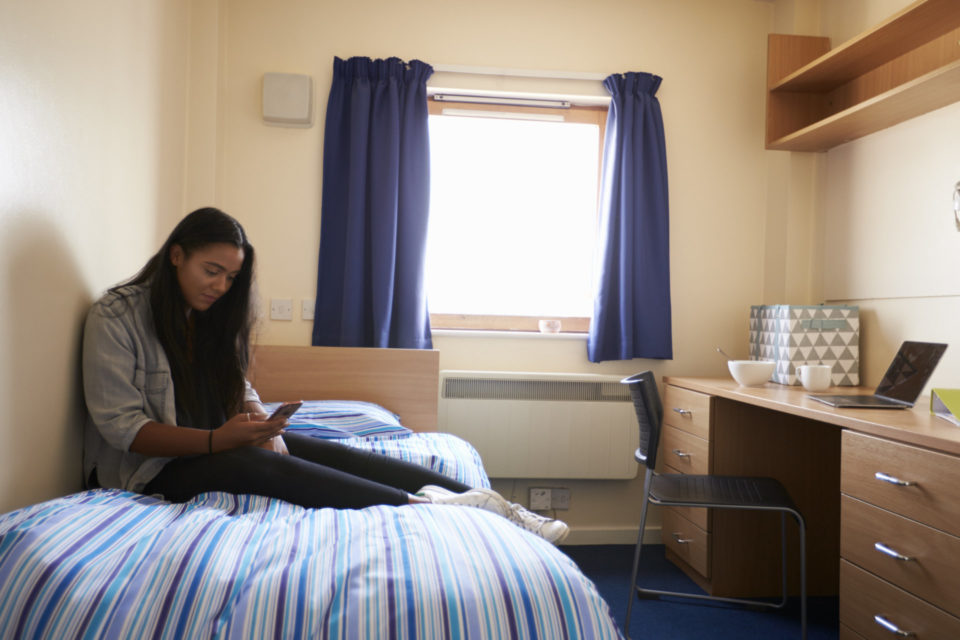 Housing Associations & Student Accommodation
Housing associations often provide the first step on the ladder for many people to move into rented accommodation and with chronic shortages of housing in many areas, we believe that shipping containers could help. There have been a number of recent examples around the UK where planning has been granted for 'Meanwhile' use. This is usually a temporary permission that enables a prime area of land to be used before it is needed for something else and often this goes hand in hand with economic regeneration of areas to create new and vibrant communities.
The benefit of using container-based homes in these situations is that once the area is ready for total redevelopment they can be moved on to help new areas in the same way.
Shipping containers are ideal for Individual living and provide a perfect size and base for a single person or bunk accommodation such as at activity centres or for student accommodation.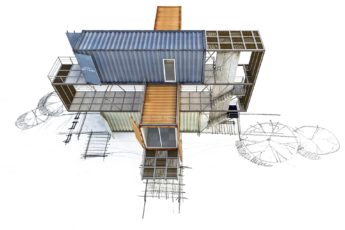 Homes of Architectural Significance
Containers are perfect for creating iconic structures and designs for homes of architectural significance – or for temporary accommodation at high-end campsites or glamping sites. With their straight lines and square frame, the design lends itself well to a very modern looking structure. However its important to note that they are not necessarily a more economical alternative to traditional construction as there are significant structural challenges in order to meet building and energy regulations.
If you are an architect or developer and already have detailed plans for a containerised home, please get in touch and we will be able to work with you and help to transform your ideas into reality.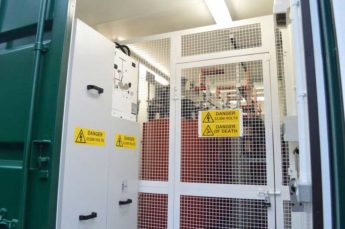 Plant Rooms and Equipment houses
Shipping containers provide a wide range of end users with a self-contained and easily-movable space, taking up a small footprint in which specialist and valuable equipment can be installed.
They can house power generation equipment and storage, 5G telecoms, broadband, as well as specialist equipment used by defence companies, biomass energy producers and the rail network.
Often designed to incorporate plug and play features, specialist equipment can be installed quickly and easily in a factory environment before onward shipping, either domestically or internationally. For example we have supplied many containers for field scale solar farms and, rather than electricians trying to install specialist transformers in a muddy field, these can be prepped in a factory leaving just a few simple connections made on-site.
Converted containers offer an extremely time-saving solution compared to building from scratch.
Recent projects have seen containers prepped to accommodate radar technology, spray booth equipment and electrical transformers for onward shipping to Africa.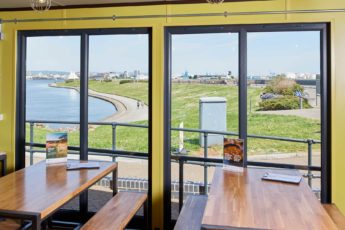 Container Cafés
Container Café conversions are probably our most popular retail container enquiry, providing an ideal environment for both start-up businesses and franchises.
Quick and easy to design and build, they can be in the form of a kiosk, booth or pop-up shop and moved around from event to event, place to place or festival to festival.
Just like the container that has travelled the world, its culinary uses are truly global, serving pizza or ice cream from Italy, tacos from Mexico, sandwiches from Kent, pasties from Cornwall, sausages from Lincolnshire, or just selling good quality local produce.
See more details of our converted container cafe unit.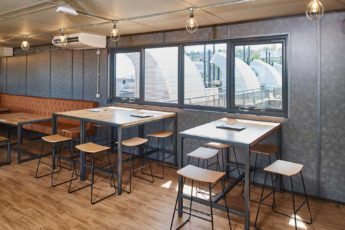 Containerised Bars
Nearly all events have a bar, whether it's at a live concert, festival, street fair, carnival or seasonal market.
Shipping containers provide a striking space that is portable, easy to set up and simple to remove afterwards.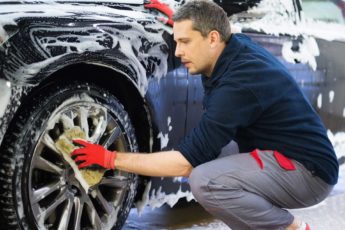 Supermarket Car Parks
It started with the hand car washes, for which we supplied many containers, but now we are seeing more and more businesses quite literally 'pop up' in the supermarket car park.
Recently there have been several chains of hairdressers moving in and judging by our research we think gyms, fitness centres, creches, concept stores and childcare facilities could be next!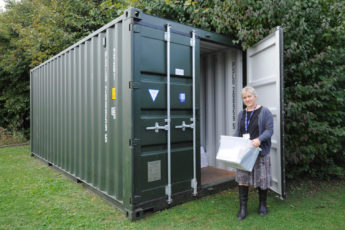 Seasonal or Permanent Retail Storage Containers
Most retail shops have a peak season, often around Christmas or Easter. Shops also have surplus outside space especially those on retail parks.
If you are the manager of a retail outlet, shipping containers are an ideal way to help you store and manage seasonal stocks so that you don't let customers down.
These storage containers can be converted with extras such as lights, anti-condensation coatings and we can supply containers with easy-opening handles too so everyone can operate the doors and access the stock quickly and safely.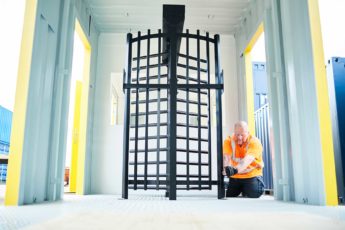 Turnstiles and Access equipment
Smart technology has prompted a recent increase in demand for turnstile units, which range in complexity from simple card readers to highly sophisticated biometrics entry systems.
The shipping container provides a perfect place to install and protect this equipment, whether a single, double or multiple turnstile unit is required.
In addition to helping to protect against theft or terrorism at construction sites, infrastructure projects or airports, turnstile software can also be used for recording attendance at work for example for safety or clocking in reasons. On construction sites turnstiles are now commonly used to restrict access to only those who have completed site inductions, security clearance or hold the relevant safety cards.
The Och Metals turnstile units can be connected to a range of different software systems so if you have specific entry software we can usually provide a suitable system for your contractor to connect to. Turnstile containers are also available to rent, excluding the software required.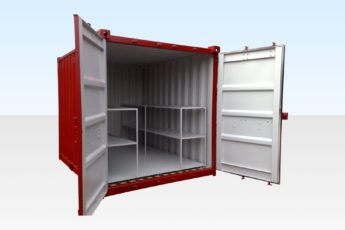 Safety & storage of hazardous / flammable goods
Chemicals, flammable liquids and gases need to be safely stored, to prevent potential harm to humans, animals or animal health and to protect the environment in the event of a spillage or leak.
Examples of companies we have worked with include motor and aviation repair workshops to store lubricants, schools and hospitals to store cleaning materials, agricultural and horticultural businesses to meet BASIS standards for the storage of agro-chemicals and laboratories for the storage of chemicals and gases. We have even worked with defence companies dealing with ammunition to create specialist rooms for the preparation of munitions.
Shipping containers provide a versatile base unit to design a suitable specialist storage container. We can help you create bunded containerised spaces with pedestrian or forklift access, for pallets, ISO tanks, drums, bags or small container which include features such as intrinisically safe lighting, insulation, frost protection, natural or mechanised air extraction, mezzanine shelving, racking and more.
If you have a need for specialised bunded storage container, please contact us with with a list of all the regulations that need to be met for the safe storage of your specific products.
Exhibition and Event Containers
The portable and moveable nature of shipping containers makes them an obvious choice for short term event and exhibition uses. Compared to building an exhibition stand from scratch for each event a converted shipping container can be rapidly deployed and offloaded.
Furthermore it's such a strong and flexible building block from which to incorporate unique design features to accommodate you and your clients every need.
Recent exhibition units have incorporated a wide range of features including hydraulically opening sides to create open plan areas with decking and pedestrian areas, bifold doors, roof terraces with viewing areas, barista coffee making, cocktail bars and boutique high level seating arrangements.
If you have a need for a high quality exhibition stand please do not hesitate to get in contact with our specialist in-house container conversion design and creation team conversions@armouryshop.org
Retail outlet containers
Possible retail uses for shipping containers are endless, ranging from a single standalone unit to a large retail complex comprising of multiple containers.
Typical uses include pop-up container shops, town centre shopping parks, seasonal markets, and sales kiosks (selling anything from tickets, souvenirs and ice creams), coffee shops, farm shops, surf stores and water-sports bases.
Shipping containers for retailers are especially well suited to venues off the beaten track, seasonal visitor attractions, at or adjacent to sites and environments where it's not permitted or practicable to build permanent retail space.
Available in sizes from 8ft to 40ft shipping containers give designers, architects and clients the opportunity to create strong and robust buildings with a modern iconic design and a long life-expectancy. Upcycled from shipping containers retail containers have environmental credentials and are readily available from stock, potentially they have a role to play in the circular economy maximising longevity, future reuse and therefore minimising resource use and waste.
Containers can be cut and shortened as required by the space or purpose. Furthermore most converted retail containers are suited to being lifting by crane from above or forklift from below and some designs can be shipped overseas for use in remote parts of the world or to assist with the redevelopment of disaster stricken areas. A great example of their use in response to a natural disaster was Container Mall (also known as Re:Start) in Christchurch, New Zealand after the 2011 earthquake, see details here https://en.wikipedia.org/wiki/Re:START
Quality Control
From initial concept to delivery, your conversion from storage container to bespoke container conversion will be designed, approved, created and quality controlled to meet your individual needs. To start the process, our creative sales team will help with your concept and visuals, which will be turned into detailed drawings using the latest CAD technology by our design team. The entire production process will be overseen by our Production Manager from fabrication through decoration, internal lining and fit-out to ensure the highest quality standards.
A range of features can be incorporated from a simple door or windows to much more complicated configurations such as altering the length and height, removing side walls so that multiple adjoining units can create larger open areas or maximising use of the footprint with multiple storey buildings. We can also fit air conditioning, natural or forced ventilation, mechanised plant and equipment and much more.
Once the drawings are signed off, our in-house welders, carpenters, floor layers, paint sprayers and electricians will build your conversion project. The team has extensive experience of creating successful spaces from our shipping containers for a wide range of uses and industries. Please send any ideas for a conversion project to info@armouryshop.org.
Whilst most of the projects fall into the following categories, the nature of using shipping containers as a building block means that the only restriction is your imagination or what you might need to achieve for your project.